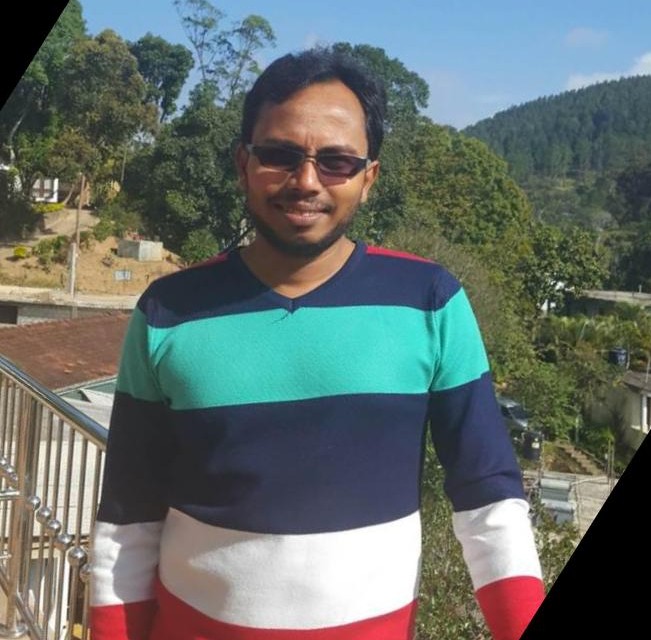 Dr. Basura Fernando is a research scientist at the Agency for Science, Technology and Research (ASTAR) Singapore. He is also a honorary lecturer at the Australian National University (ANU). Prior to that he was a research fellow at the Australian Centre for Robotic Vision (ACRV), the Australian National University (ANU). He was the project leader of "SR1: video representations" of the Australian Centre for Robotic Vision. He obtained PhD from VISICS group of KU Leuven, Belgium in March 2015. He is interested in Computer Vision and Machine Learning research. Has has contributed to statistical visual domain adaptation and human action recognition.
Research interests: Visual representation learning, Visual recognition and analysis, Pattern recognition and data mining, Statistical Machine Learning, Computer Vision. My CV
Contact: basuraf at gmail dot com
News:
I am serving as an associate editor for ICRA 2018 and area chair for BMVC 2018.
Happy to be one of the outstanding reviewers at ICCV 2017 :-)
Project pages and code
Publications
2018
Projects
ARC Centre of Excellence for Robotic Vision Robots are changing the way we live and work. The Australian Centre for Robotic Vision (ACRV) brings together Australia's top researchers in computer vision and robotics to lead the world in robotic vision research. Robotic vision is the key enabling technology that will allow robotics to transform labour-intensive industries, disrupt stagnant markets, and ensure robots become a ubiquitous feature of the modern world. Project website Duration : June 2015 to now
EU-FP7 AXES: Access to Audiovisual Archives The goal of AXES is to develop tools that provide various types of users with new engaging ways to interact with audiovisual libraries, helping them discover, browse, navigate, search and enrich archives. In particular, apart from a search-oriented scheme, we will explore how suggestions for audiovisual content exploration can be generated via a myriad of information trails crossing the archive. This will be approached from three perspectives (or axes): users, content, and technology. Project website Duration : May 2012 to March 2015
BEELDCANON: Providing access to the rich Dutch-Flemish image culture Images are an essential part of our culture. Thanks to digitization and other technological innovations it is easier to distribute images. The research project BEELDCANON (Canon Image) wants to map out 'typical' images from the Flemish and Dutch culture, store them into a database and make the database easily searchable. Flemish researchers focus on listing buildings, such as the Atomium, Louvain's town hall or the Cathedral in Antwerp, while their Dutch counterparts focus on typical landscapes or scenes like the cheese market in Alkmaar and the Dam in Amsterdam. Project website Duration : September 2011 to May 2013
Professional Activities
Associate Editor ICRA 2018.
Organising CVPR17 workshop on Brave New Ideas for Motion and Spatio-Temporal Representations.
Organising ECCV 2016 workshop titled Brave New Ideas For Motion Representations.
Co-chairing the CVPR 2016 oral and spotlight session on Learning and CNN Architectures.
Program committee member of Robotic Vision RVSS 2016 Summer School.
Program committee member of RoboVis 2016 workshop.
Review Activities
CVPR 2013, 2015, 2016, 2017 reviewer
ICCV 2013, 2017 reviewer
ECCV 2014, 2016 reviewer
NIPS 2016 reviewer
TPAMI: IEEE Transactions on Pattern Analysis and Machine Intelligence
IJCV: International Journal of Computer Vision
CVIU: Computer vision and image understanding journal
PR: Pattern Recognition Journal
PRL: Pattern Recognition Letters Journal
Machine Learning Journal
IEEE Transactions on Neural Networks and Learning Systems
IEEE Transactions on Multimedia
Teaching
Guest lecture 2017 Semester1 : ENGN4528: Computer Vision at ANU
Tutorial on Action recognition and Semitic Vision at the "Robotic Vision Summer School" RVSS 2017
Guest lecture in Advanced Topics in Mechatronics Systems ENGN8536 ANU
Guest lecture 2016 Semester1 : ENGN4528: Computer Vision at ANU
2015 Spring : H09J2A: Pattern Recognition and Image Interpretation (TA) at KU Leuven
2014 Spring : H09J2A: Pattern Recognition and Image Interpretation (TA) at KU Leuven
2013 Spring : H09J2A: Pattern Recognition and Image Interpretation (TA) at KU Leuven
PhD Supervision
1. 2016-2018 - PhD thesis co-supervisor - Xin Yu (ANU) (Graduated, now a research Fellow at ANU.)
2. 2016-2018 - PhD Chair of the panel and thesis co-supervisor - Mohammad Sadegh Aliakbarian (ANU)
3. 2016-2018 - PhD thesis co-supervisor - Samitha Herath (ANU)
4. 2015-2017 - PhD thesis co-supervisor - Rodrigo Santa Cruz (ANU)
5. 2016-2018 - PhD thesis co-supervisor - Cristian Rodriguez Opazo (ANU)
6. 2017-2019 - PhD thesis co-supervisor - Zachary Jiang (ANU)
MSc/ BSc Supervision
2018: ENGN4712 - Engineering Research and Development Project - Tengda Han - Video object segmentation (Bachelor thesis)
2018: ENGN4200 - Individual Project - Yuge Shi -Video action prediction (Bachelor thesis)
2013: Learning object categories from the web - Alberto Dominguez (Master thesis KU Leuven)
Seminar, talks
May 24, 2016 - Rank pooling and variants for action and activity recognition - ACRV The Australian National University
March 17, 2016 - Action and Activity Recognition Research at ANU - Australian Centre for Visual Technologies, The University of Adelaide, Australia
July 15, 2015 - Effective Image and Video Representations - Australian Centre for Robotic Vision, ANU, Australia
March 30, 2015 - Image Representations for Improving Object Recognition - VISICS Lab, Leuven, Belgium
Dec 12, 2013 - Unsupervised Visual Domain Adaptation Using Subspace Alignment - VISICS Lab, Leuven, Belgium
Dec 12, 2013 - Mining Multiple Queries for Image Retrieval- VISICS Lab, Leuven, Belgium
Dec 04, 2012 - Learning mid-level features for classification and retrieval - Intelligent Systems Lab, Amsterdam
Nov 22, 2012 - Learning mid-level features for image retrieval - Hubert-Curien Lab, Saint Etienne, France
May 15, 2012 - Discriminative Feature Fusion for Image Classification - VISICS Lab, Leuven, Belgium
Summer schools
9-13 July 2012 - INRIA Visual Recognition and Machine Learning - Grenoble, France
Conference/workshops
Jun. 2016 - CVPR - Las Vegas, USA Jun. 2016 - ICML - New York, USA Dec. 2015 - ICCV - Santiago, Chile Dec. 2013 - ICCV - Sydney, Australia Aug. 2013 - iMinds Opportunity Recognition - Leuven, Belgium Jul. 2013 - ROKS - Leuven, Belgium Oct. 2012 - ECCV - Florence, Italy
Education
Bachelor of Science in Engineering University of Moratuwa Sri Lanka Computer Science and Engineering 2003-2007
Master of Science - Color in Informatics and Media Technology University of Saint-Etienne France and University of Gjovik Norway Color in Informatics and Media Technology 2009-2011
PhD KU Leuven, Belgium Computer Vision 2011-2015
Scholarships and awards
Mahapola Scholarship (Sri Lanka) 2003-2007
Erusmus Mundus Scholarship (European Union) 2009-2011
Ph.D Fellowship (KU Leuven, Belgium) 01-Oct-2011 to 31-March-2015
Research Fellowship (ARC Centre of Excellence for Robotic Vision, The Australian National University) 02-July-2015 to 31-December-2018